Interra's Here To Serve You
Ensuring the safety of our employees, members, and community, Interra continues to monitor pandemic information in our local communities. All Interra lobbies continue to remain open for normal business hours in order to provide expected banking services. Scheduling an appointment with an advisor or lender is always encouraged in order to maximize time.

All Interra lobbies are open for deposit and withdrawal transaction services during normal business hours Monday through Saturday.
Account, lending and investment services are available by appointment. Members should schedule an appointment prior to visiting Interra lobbies. To schedule an appointment, click here or call 574-534-2506.
Masks are optional to individuals entering any Interra facility.

To learn more about Interra's guidelines concerning lobby hours, appointment scheduling, special accommodations for seniors and members with chronic health conditions, safety precautions, and much more, click on the Branch FAQs below.
Check out these convenient ways to bank with us here.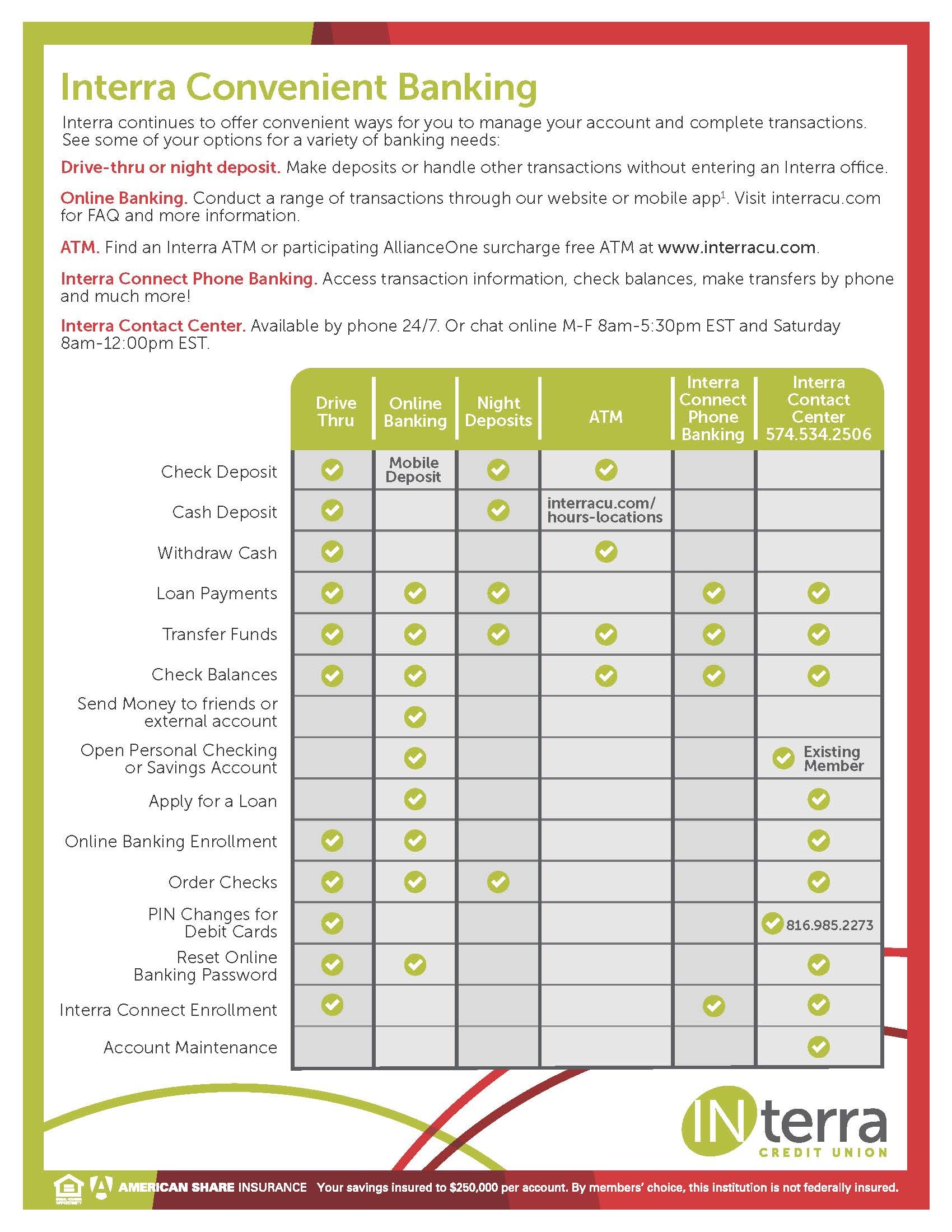 Branch & Appointment Scheduling FAQ
Q:
Will Interra's lobbies remain operating with appointment only services?
A:
We continue to suggest scheduling an appointment for the following services:
Account opening
Personal or car loan
Lost, stolen, or damaged debit card
Safety deposit box
Notary services
Q:
What are the branch hours?
A:
Monday – Friday 8:30 am – 5:00 pm
Saturday 8:30 am – 12:00 pm
Plymouth only
Monday – Friday 8:30 am – 4:00 pm

Q:
Can teller transactions occur in the lobby?
A:
Yes! In-branch teller transactions are available at all 16 of our locations. These services may be completed during our normal business hours. Additionally, teller transactions can also be accomplished at the drive-thru with additional deposit options at our night deposit, ATM and mobile app.
Q:
What ways can I make deposit?
A:
In addition to our lobbies and drive-thru, here are 2 other ways you can make a deposit.
Mobile Deposit. A record number of Interra members now use mobile deposit and have learned the ease and convenience of it. Once enrolled in online banking, you can use the Interra app to sign, snap and send your deposit. It's completely safe and secure! Find out more here.


Night Deposit Boxes. The night depository gives our members flexibility in trying to make a deposit prior to a branch opening or closing. Deposits will post the next business morning.
Q:
What lobby and loan services are available?
A:
All lobbies remain open for teller transactions during normal business hours.
Branch advisors and lenders are available to provide assistance. Members can also save time and find extra convenience by completing loan applications online.
Mortgage, agribusiness, business lending and investment needs could have limited staff available at branches; therefore, online applications are encouraged. If you have any questions, you may contact your personal lender or advisor directly, call 574-534-2506 or schedule an appointment here.
Q:
What safety measures are being taken?
A:
In an effort to continue protecting our staff and members, Interra continues to follow the necessary guidelines established by the CDC and governmental leadership. This includes, but is not limited to:

Optional mask wearing inside any Interra facility.
We ask that individuals remove hats and sunglasses before entering the building.

Hand sanitation stations are available for staff and member's utilization.
High traffic touchpoints in the branch and drive-thru are disinfected throughout the day.
Daily overnight branch cleaning and disinfecting continues.
A:
We ask that you please be patient.
Save on wait times by using Interra's technology banking. It provides many services right at your fingertips without needing to leave home.
Be aware of your own health. If you're experiencing any unhealthy symptoms, please avoid using the lobby services at this time.
Appointments are recommended for assistance and time with Interra's advisors, branch managers and lenders. See below for appointment instructions.
Q:
How can I make an appointment?
A:
Appointment scheduling has never been easier. Simply click here to schedule an appointment with an Interra advisor, branch manager or lender. Or you may contact us at 574-534-2506 and we can direct you to a lender (mortgage, agribusiness, business) or a wealth management advisor to schedule an appointment. Due to the safety of our members and staff, some appointments can even be completed virtually rather than in-person.

We encourage members to continue utilizing our drive-thru and technology banking such as online banking, mobile deposits and online loan applications and payments. These technology services can assist specific financial needs in the convenience of your home or right at your fingertips. Learn more here.

Interra Partnership
Standing firmly beside our members, Interra offers assistance if you have been financially affected by COVID-19 hardship1. Contact us at 574.534.2506 for more information.

Interra Consumer and Business Credit Card
With quick approvals, low rates, great benefits and a 21-day grace period on purchases.
Technology Banking
If you're not enrolled in Interra's FREE online banking2 or haven't downloaded the mobile app3, you're missing convenient and easy resources to:
Keep an eye on your balances and transactions
Manage transfers
Make loan payments
Pay bills
Make a mobile check deposit
SBA's Economic Injury Disaster Loan Program
Businesses that have suffered working capital loss due to COVID-19 pandemic may be eligible for this loan. Proceeds can assist with fixed debt payments, payroll, accounts payable, lease payments, insurance and more.
$2,000,000 maximum loan amount (including affiliate entities)
3.75% APR; Non-Profit 2.75% APR
Up to 30-year term4
Deferred payments for first 24 months
No collateral required for loans of $25,000 or less
Applications for loans and payments are made directly through the Small Business Administration (SBA), not Interra Credit Union.
SBA's Coronavirus Aid, Relief, and Economic Security (CARE) Act and Paycheck Protection Program (PPP)
In response to the coronavirus, the US government offered small business emergency lending in order to assist with financial hardship. Through Interra's referral partnership with KServicing by Kabbage5, Paycheck Protection Program loans assisted many of our local small businesses. Please utilize these links for helpful resources to assist with the forgiveness process.
SBA's Paycheck Protection Program Second Draw (PPP2)
As of 5/6/21: The Paycheck Protection Program Second Draw (PPP2) is no longer accepting eligible business applications5.
Please refer back to this site for information regarding loan forgiveness as it becomes available in the future.

Small Business Restart Grant
In April 2021, Indiana announced an expansion of the Indiana Small Business Restart Grant to help accelerate economic recovery activity by supporting Hoosier entrepreneurs and small businesses. The program provides working capital to eligible companies by reimbursing certain expenses incurred during and related to the global pandemic.
Find out more information including grant details, eligibility requirements, eligible expenses, and needed application documentation at Indiana's Back On Track site.
1Programs, rates, terms and conditions are subject to change without notice. All loans and credit cards are subject to credit approval and collateral review, as applicable. 2$5.00 paper statement if not enrolled in e-statements. 3Mobile banking requires online banking enrollment first. Data charges may be imposed by your mobile network operator or internet service provider. 4Based on individual credit approval. 5Interra is partnered with KServicing by Kabbage and offers this service based solely on convenience for our members' access.

Our Mission

To be our members' most trusted and valued financial resource.
How You Can Continue Banking
Interra Branches
All lobbies will be open normal business hours. Click here for hours and locations.
All Drive-Thrus will be open normal business hours.
Services made by appointment. Contact your local credit union representative, call 574-534-2506 or sign up online for a phone or in-person appointment by clicking here.

Interra Contact Center
Mon-Fri 8:00 am - 5:30 pm
Saturday 8:00 am - 12:00 pm
Schedule an in-person, phone or loan appointment here.