Stay Alert About Fraud
According to CNBC¹, in 2021 consumers reported losing more than $5.8 billion to fraud. This was a 70% increase from 2020. All signs indicate that 2022 will have an even higher increase in overall fraud losses.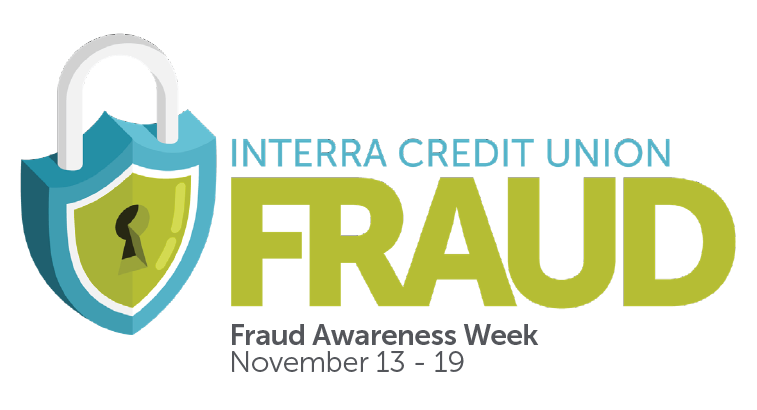 With fraud awareness week occurring this month, Tiffany Watkins, Interra's Assistant Vice President of Compliance and Fraud, recently shared, "In addition to the standard anti-theft tips such as keeping your cards, passwords, PINs, documents and personal information secure, consumers need to stay vigilant in other ways as well." Interra offers these 7 additional tips to best prepare you against fraudulent attempts.
1. Stay proactive. Fraudsters work hard all year long but seem to work overtime during the holidays with attempts to compromise credit and debit card information. Monitoring your accounts and staying alert for repetitive, small transactions or unique purchases that you did not authorize can help fight against fraud.
2. Utilize customized alerts. Provide an extra layer of security by signing up for customized alerts through Interra's online banking. You choose the alerts that will notify you of potential suspicious activity on your Interra account in areas such as account balances, checks cleared, loans, login attempts and transferring of funds.
3. Stay up to date. It's important to familiarize yourself with current data breaches taking place in the nation and common scams that may also be on the rise. The Federal Trade Commission and Better Business Bureau provide timely online resources in order for consumers to
learn more.
4. Keep your money safe. When utilizing social platforms such as Venmo and Facebook Pay to receive money, it's vital to transfer those funds to your financial account which allows the funds to be protected or even insured.
5. Consider using alternative payment methods. Mobile wallet options provide easy, simple, secure, and private ways to use your Interra MasterCard® debit and credit cards to make in-store and in-app purchases. To allow additional purchasing flexibility and convenience, a credit card may be another option for you. Learn more about Interra's personal credit cards here or business cards here.
6. Monitor your credit. At the ease of your fingertips, you
can check your credit score free through SavvyMoney found inside Interra's online banking. Plus be sure to visit annualcreditreport.com to obtain a free credit report each year.
7. Report any fraud immediately. If you find that you are a victim of fraud, contact Interra 24/7 at 574.534.2506 or at the number on the back of your credit or debit card for immediate assistance.
¹https://www.cnbc.com/2022/02/2...
Looking for Extra Cash? Skip-A-Payment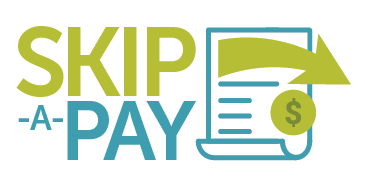 Preparing for the upcoming holidays can seem a bit overwhelming. If you have a loan at Interra, we may be able to help ease some of the burden when you use our Skip-A Pay program.
• Skipping a payment won't hurt your credit report!
• Qualified consumer loans are eligible.
• Eligible members can skip a loan payment up to two times in a 12-month period.
• $25 processing fee per loan, per request.
It's easy to sign-up:
• Log into your Interra online banking.
• From your mobile device choose "Skip-A-Pay" from the Menu or the header on your desktop.
• Need more help? Call or text us at 574.534.2506, chat online, or stop by any branch to get started.
Qualified, secured consumer loans¹ are eligible for the program. Loans not eligible include loans secured by real estate, single payment loans, lines of credit and credit cards. If you want to skip a payment, please review all the information, including terms and conditions, and complete a Skip-A-Payment form for each loan through your online banking or at any Interra office. You can also find a helpful FAQ at https://www.interracu.com/pers... for more information.
¹All Skip-A-Pay requests are subject to approval. Interest will continue to accrue. A skipped payment may reduce any GAP insurance claims on
insured vehicles. Please consult you GAP Policy for more information.
















Interra Call for Nominations

One of the differences between banks and credit unions is democratic structure and control. Officials are elected by fellow members to oversee the governance of our financial cooperative. These individuals make a commitment to serve in a way that maximizes the shared interest of all members.
Service to fellow members on the Board of Directors and the Supervisory provide unique opportunities to help chart the course of Interra, now and in the years to come. With that in mind, are you interested in serving your community and your fellow credit union members? Possibly, you have skill sets and are qualified in a particular area, such as finance or strategic planning. Perhaps, maybe you're simply passionate about Interra Credit Union and its future.
This Call for Nominations is a request for enthusiastic members interested in helping to build the credit union. Experience in financial services or as a board member is not required. In 2023, three (3) seats on the Board of Directors and one (1) on the Supervisory Committee, all 3-year terms, are up for election.
To be eligible, the individual must:
• be an Interra member in good standing, meeting qualification criteria;
• submit the Board of Directors and Supervisory Committee Application/Agreement; and
• meet the requirements of the Board of Directors or Supervisory Committee job description
If you are interested in running for a position, please call Interra at 574.534.2506, ext. 7262, to obtain an application and related information. The deadline for delivery of all required information is at the end of the business day on Friday, January 13, 2023.
In accordance with the Board of Directors Governance Manual and the Bylaws of Interra Credit Union, the Nominating Committee will review applications and establish a slate for the 2023 ballot, holding the right to approve any and all names that will be placed on the ballot. The election will be conducted online from March 6-20, 2023. The annual meeting is scheduled for March 20, 2023, beginning at 5:30 pm, at the Interra Main Office in Goshen.
Additional information about the election and the Annual Meeting will be provided in future issues of INtouch and online.
Hometown Giving
Interra is excited to kick off our 29th year of our annual Hometown Giving holiday service project. We'll be supporting more than 30 nonprofit organizations in a variety of ways including, purchasing wish list items, adopting families, and sponsoring holiday parties.
Angel Trees will be decorated and available in all Interra offices by November 21st. This allows you, our members, the opportunity to choose angel tree tags from the trees and return new, unopened, and unwrapped gifts to any Interra office by the specified due date(s).
This is just the start. Be sure to look for more information about Hometown Giving 2022 in the December issue of INtouch.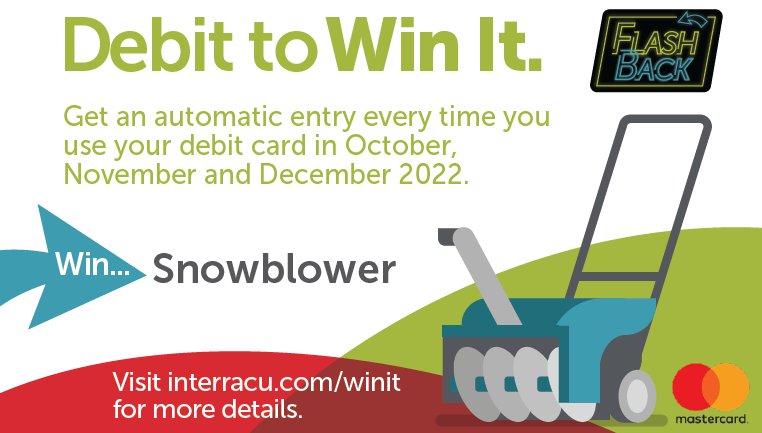 Veterans Day
With a grateful heart, we want to thank the men and women in uniform, past, present, and future, for your ultimate sacrifice and service to our country.

In honor of Veterans Day, all Interra offices will be closed Friday, November 11.
Thanksgiving Hours
There are many things to be thankful for and our members are at the top of the list. Thank you for trusting Interra with your financial needs. We hope you have a wonderful Thanksgiving holiday!
Holiday hours:
• November 24, all offices closed.
• November 25, all offices open regular business hours